How to Use Airvoice Wireless on a Nexus 4
---
2013-06-13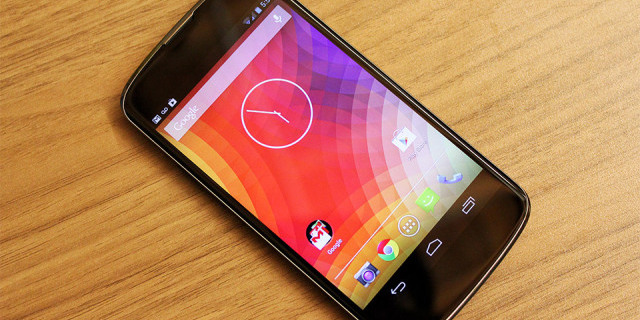 If the instructions below do not work for you, check out Airvoice Wireless' support article here: Android Support Programming.
One of the best things about LG's Nexus 4 is that it comes unlocked and ready to use easily on any GSM network. I've had mine for 3 months and have used 3 different carriers (and the third bowl of porridge was just right).
I am now using Airvoice Wireless, where they have a plan with 100 minutes for $10 that expire after 90 days. That's a shiny $3.33 per month. I use Google Voice to make phone calls from Gmail and send SMS messages over WiFi, so I do not need or want many voice minutes or any texting. I just activated my SIM card from Airvoice Wireless, and I thought I would document how to use the carrier with a Nexus 4 here.
First, you'll need to order a SIM card from Airvoice. Mine was a cheap $4.99 and was mailed to my house in about 4 days. Once you receive your SIM card, you'll notice that it is a normal-sized card (unless they offered you the option of a micro SIM). This means that you will need to cut the card into a smaller size to fit in the micro SIM slot in a Nexus 4. Not a huge deal, but I will tell you how to do it.
Cutting the SIM card to micro SIM size
Although it's only $5, I was a bit nervous about having to wait for another SIM card if I botched this. So I did some research. First, I tried to watch this guy's video: How to Cut a SIM Card into a MicroSIM card, but he was a rambler... to put it nicely. He did provide this nice template though, to help your cutting: Normal SIM cut to micro SIM template. Just print that off and make sure your normal-sized Airvoice SIM card lines up with the outline on it. Then you can cut most of the paper away until you are down to just a normal SIM-sized template, with the micro sim outline within it. From here, you'll want to tape the template to your card. Then you can cut away the excess SIM card material until you have the micro SIM-sized card left.
If all went well, you have a micro SIM card now. Next, use the SIM card removal tool that came with your Nexus 4 (or needle or similar sized item) to eject the SIM tray. Place the new SIM card in the tray and put it back in the phone.
Set up Airvoice Wireless APN for your Nexus 4
To set up Airvoice's cellular network on the Nexus 4, you will first need to add a plan and activate your SIM card. To do this, just go to Airvoice's site (should be here: Airvoice New Activation) and follow the directions. Once you have your phone number, you are ready to enter the correct APN settings on the Nexus 4.
To change your APN settings, go to Settings, then "More..." in the "Wireless & Networks", then click on "Mobile Networks" and "Access Point Names". From here, you can tap the three square dots in the upper right-hand corner to add a "New APN".
Airvoice's APN settings are as follows:
Name: US - Airvoice Web
APN: att.mvno
Proxy:
Port:
Username:
Password:
Server:
MMSC:
MMS Proxy:
MMS Port:
MMS Protocol: WAP 2.0
MCC:
MNC:
Authentication Type: PAP
APN Type: default, supl

PXT Messaging MMS:
Name: US - Airvoice MMS
APN: att.mvno
Proxy:
Port:
Username:
Password:
Server:
MMSC: http://mmsc.cingular.com
MMS Proxy: 66.209.11.33
MMS Port: 80
MMS Protocol: WAP 2.0
MCC:
MNC:
Authentication Type: PAP
APN Type: mms
Once you put those settings in, you can tap the three dots in the lower right-hand corner and select "Save". Then make sure you have your new APN selected. It should work as soon as you do that, but if it doesn't, just turn the Nexus 4 off and back on.